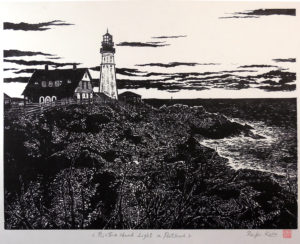 The Stonewall Gallery at Yarmouth History Center proudly presents an exhibition of prints by artists from Maine and Aomori, Japan, which will be on view from May 1 through July 1. The traveling exhibition is part of MAPS (Maine-Aomori Printmaking Society), organized by Friends of Aomori as a cultural exchange program, sharing art and artists between the sister states of Maine and Aomori. The prints will be exhibited in Yarmouth, Eastport, and York from May to October, while the same collection is being exhibited in Aomori City, Fujisaki, and Tsugaru in Aomori prefecture.
MAPS is organized by Friends of Aomori, an all-volunteer non-profit that supports the Sister State relationship between Maine and Aomori, Japan. The relationship between Maine and Aomori has been in place for 20 years, but the fascinating connection between the two states goes back to a shipwreck in 1889 (read more here: http://maine-aomori.org/about/). In addition to MAPS, Friends of Aomori supports high-school exchange programs, educational events and programming about Japan, and economic development opportunities such as a recent delegation visit of Maine fisherman and aquaculture business leaders to Aomori in October 2016.
MAPS 2017 features prints by: Siri Beckman, Holly Berry, Meghan Brady, Quincy Brimstein, Crystal Cawley, Toshiaki Ebina, Tetsuro Hyogo, Yuko Kaneko, Reiko Kudoh, Erin Leon, Harumi Maeno, Hiroko Miura, Masumi Miyamoto, Akihiro Muroya, Yoshihiki Oyama, Christopher Patch, Barbara Putnam, Kazuko Sukekawa, Andrea Sulzer, Hiroshi Terada, Yoshimasa Tsujii, and Jeff Woodbury.
The show will be on view at the Stonewall Gallery at the Yarmouth History Center from May 2 to July 1, with an opening reception on May 11 from 5:30-7pm; Tides Institute & Museum of Art in Eastport from August 18 to September 17 with an opening reception on Friday, August 18 from 5-7pm; Chase's Garage in York from September 30 to October 29, with an opening reception on Saturday, September 30 from 5-8pm.
The show is made possible with generous support from Ocean House Gallery and Frame.