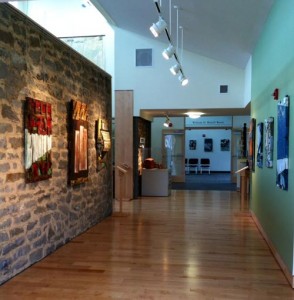 The Stonewall Gallery, located in the center of the Yarmouth History Center's facility, features the work of regional contemporary artists. The Gallery's most prominent feature is the gray stone wall, a structure that was once a part of Yarmouth's Water District Building built in 1923. The Gallery hosts a number of individual and group art exhibits throughout the year. Click here for more information on upcoming and past exhibits.
We welcome proposals for exhibitions of contemporary art in the Stonewall Gallery. We are open to individual and group shows ranging in style and theme from traditional to challenging. A portion of proceeds from art sales supports the programs of the History Center. Please send exhibition proposals and/or photos of your work to Executive Director Katie Worthing (kworthing@yarmouthmehistory.org).
The Yarmouth History Center is also looking for a business to sponsor our Contemporary Art Program in the Stonewall Gallery. If you are interested, please contact Katie Worthing (kworthing@yarmouthmehistory.org).