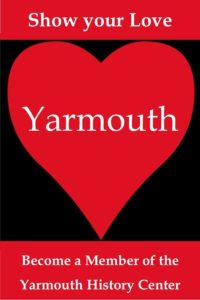 Thank you to all of our new and renewing members. Not a member yet? Read on to learn about the ways membership supports our mission.
We are proud to be an active and vibrant place that helps preserve and share the history of Yarmouth and the region with all visitors. You are invited to join us as a member and enjoy a year of thought-provoking programs, history and art exhibits, and community gatherings.
Membership at every level ($25 individual or $50 family) brings with it a number of tangible benefits:
Our quarterly newsletter
Free admittance to our lecture series
One free hour of research assistance annually
Invitations to special events
Discounts in our Yarmouth-themed gift shop
As a member, you'll be a key supporter of our many free community programs. Your donation will also help us care for and showcase our wonderful collection of local history artifacts and provide resources for researchers and students. Thank you for your consideration and support. We're looking forward to seeing you at the History Center.
Join us today online, by phone (207-846-6259), or by mail:
Yarmouth Historical Society
PO Box 107
Yarmouth, Maine 04096