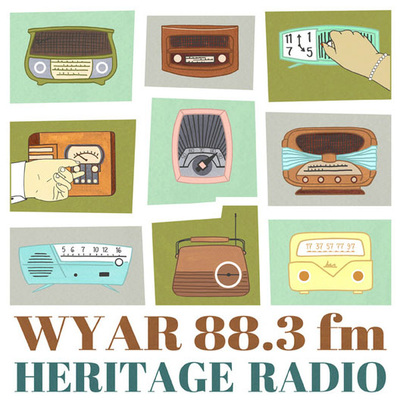 Sunday, July 16 at 2:00 pm ~ Join Yarmouth Historical Society, WYAR-FM, and the Heritage Radio Society for a special program at the Yarmouth History Center on Sunday, July 16 at 2:00 pm. This event, which is part of the ongoing Yarmouth Stories series, will showcase the work of Gary King, founder of WYAR-FM on Cousins Island. Station personalities, including current DJ Mark Persky and Assistant Station Manager Jim Brown, will share their stories and experiences with this local radio station and its unparalleled music collection.
WYAR-FM began as King's retirement project in 1995, and is now licensed to and operated by the nonprofit Heritage Radio Society, which preserves and encourages traditional American popular music, especially from the early to mid-20th century. In addition to being the licensee of WYAR-FM, Heritage Radio Society collects early sound recordings, including more than 15,000 78rpm recordings.
This program is free and open to the public and will be held at Yarmouth History Center at 118 East Elm Street. A reception will follow the discussion.