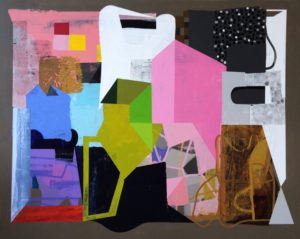 Opening reception: Thursday, September 14 from 5:30-7:00 pm
Join us as we celebrate the opening of the Stonewall Gallery's fall show featuring recent work by Yarmouth artist Tom Flanagan. Wine, cheese, and light refreshments will be served at this free opening reception.
The bold forms and colorful, textured shapes layered within Flanagan's abstract works create a rich, but balanced, visual experience for viewers. Of his work, Flanagan says: "For me, the process of painting through improvisation is incredibly important. Not knowing where the painting will take me and accepting the concept of mystery are paramount…My titles are meant as a way in and offer a kind of narrative tone that touches on sensations and memories."
Deep in a Dream and Other Works by Tom Flanagan will be on view at the Stonewall Gallery through October 28. The Gallery is located inside the Yarmouth History Center at 118 East Elm Street and is open Tuesday through Saturday from 10-5.