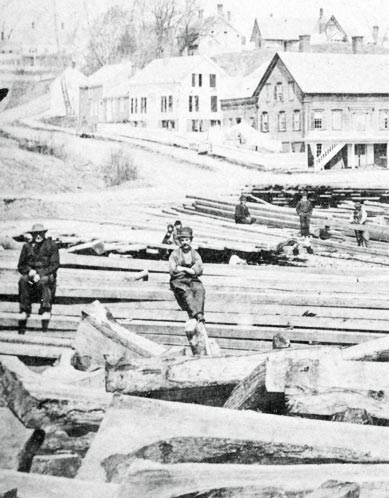 In 1874, there were twelve vessels launched from Yarmouth shipyards. The protected harbor at the mouth of the Royal River provided an ideal location for shipbuilding. Throughout Yarmouth's shipbuilding history, vessels were built for different kinds of trade-sloops and schooners for coasting, brigantines and barks for trade with the West Indies and barkentines and ships for world trade.  In the early days, vessels built were generally sloops with broad beams and large sails.  These sloops were built by the merchants of the town and used in the coasting trade.  It was normal for a captain to own a share of his vessel.  Insurance was expensive and owners spread the risk by taking small shares in many vessels.  Quite often, the responsibility of finding cargo was the duty of the captain.  When a captain was unable to get a cargo, he loaded ballast at the bottom of the hold in order to keep the vessel upright.  The weight of the masts, yards, and rigging, and the pressure of the wind on the sails would otherwise have capsized the vessel.
The height of Yarmouth's shipbuilding occurred in the between the years 1850 and 1875. Four major shipyards built vessels during this time.  On the western side of the river, Henry Hutchins and Edward Stubbs operated from 1851-1884.  Sylvanus Blanchard and his three sons, Perez, Paul, and Sylvanus Jr. owned the Blanchard Bros. shipyard. Lyman Walker's shipyard launched forty vessels of all sizes. On the eastern side of the Royal River, Giles Loring had a shipyard where the last major Yarmouth ship was launched in 1890.
Click for larger images.