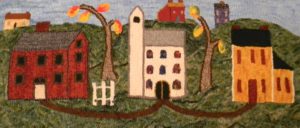 On view through April 29!
Stop in to view the Stonewall Gallery's beautiful new show featuring contemporary hooked rugs by members of the Maine Tin Pedlars.
The exhibit showcases the bright colors, inventive subjects, rich textures, and traditional techniques of contemporary rug hooking artists. Works by nearly thirty local artists, all members of the Maine Tin Pedlars, will be on display through the end of April. Click here for more pictures!
The Maine Tin Pedlars group was founded in 1980 as one of the nine local New England chapters of the Association of Traditional Hooking Artists, an international organization dedicated to helping people express themselves through fiber art. The name of the group honors Edward Sands Frost of Biddeford, who, in 1865, was the first to design tin stencils for hooked rug patterns. The group currently boasts over 100 members.
Hooked Rugs by the Maine Tin Pedlars will be on view at the Stonewall Gallery through April 29. The Gallery is open Tuesday through Saturday from 10-5.
Participating artists:
Debbie Arcaro
Nancy Brown
Trudy Brown
Norine Bucknell
Janet Crook
Kim Dubay
Marion Gallant
Marcia Gilpatrick
Jacqueline Hansen
Donna Hezlep
Daisy Higgins
Theresa Jack
Rachel Johns
Amy Kaplan
Pat Laska
Kathleen Newell
Cheri Nixon
Jeni Nunnally
Priscilla McGarry
Edna Olmstead
Baily Ruckert
Sara Salisbury
Rose Sirois
Nancy Taylor
Laurie Troutman
Pepi Upton
Faith Webster
Alitza Wildes