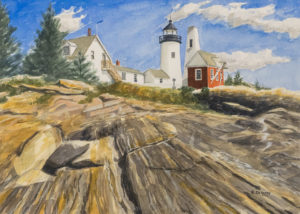 On view now!
Stop by the Stonewall Gallery's winter show to view recent paintings by Yarmouth artist Robert Delaney displayed alongside works by his great-grandfather C.H. Moor (1876-1949).
The two-artist exhibition spans generations as Robert Delaney's recent works share the gallery with paintings and watercolors by C.H. Moor, his great-grandfather. Born in Birmingham, England in 1876, Moor grew up in England, studied at the Kensington Gardens Art School, and later became a member of the Swansea Art Society. His rural landscapes and seascapes were frequently painted on location around England and Wales. Moor moved to the United States with his wife and son in 1920 and continued painting in the Pocono Mountains of Pennsylvania. Robert Delaney, great-grandson of Moor and a Yarmouth-based photographer and designer, recently re-embraced painting, finding common artistic ground with his ancestor along the way.
Lighthouses and Castles: Paintings by Robert Delaney and his Great-Grandfather C.H. Moor will be on view at the Stonewall Gallery through March 3, 2018. The Gallery is located inside the Yarmouth History Center at 118 East Elm Street and is open Tuesday through Saturday from 10-5.