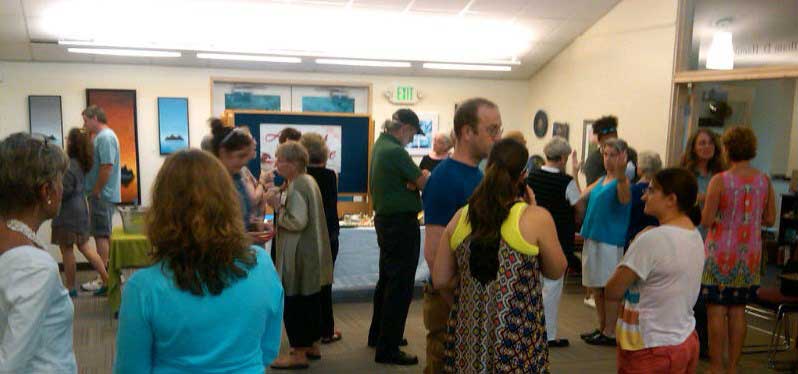 Ideal for Meetings, Lectures, Receptions, Celebrations
Host your next meeting or event at the Yarmouth History Center. Your guests will enjoy a modern, spacious facility in a picturesque setting. The Yarmouth History Center has two unique galleries to engage your guests. The History Gallery features artifacts dating back to 1680. The Stonewall Gallery exhibits the artwork of local artists. One set of French doors open to a reception area; the other set of double doors opens up to the Royal River and the river's walking trail.
The William D. Hamill room is perfect for enjoying light refreshments or a catered meal.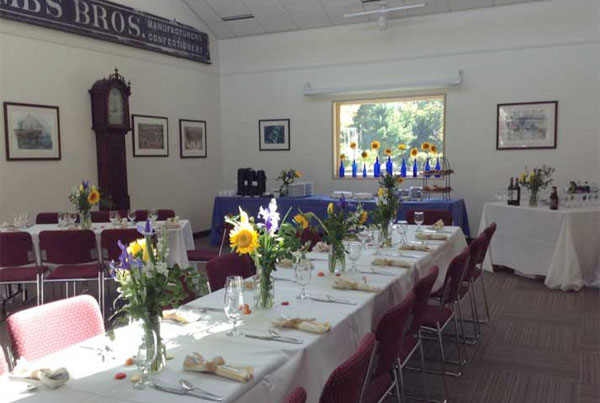 Facility Features
The William D. Hamill room may be configured to suit your needs:
Room has 18' X 34' of clear workable space
Suitable area to host 120 standing or 60 seated theatre-style
Cushioned seating for 80, 6 tables (2' x 6') plus a registration table
Podium with microphone, projector (Mac compatible), screen, speakers, and room-darkening shades
Wi-Fi connectivity
Parking for 8 at the Center with additional parking across the street at Royal River Park for approximately 30
The History Center Gallery and Stonewall Gallery together offer an additional mingling space for your event.
Cost is based on the Center's operating hours and after hours staffing needs:
Two hour minimum
$40.00 per hour, Tuesday through Saturday, 10:00 am to 5:00 pm.
$65.00 per hour, outside of regular operating hours