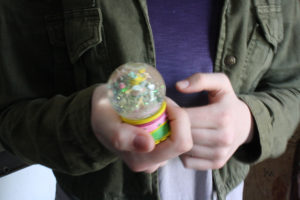 Saturday, June 3, 10:00-2:00 ~ In conjunction with Kismet Foundation's 2017 Artist-in-Residence Adriane Herman, Yarmouth History Center presents an "Emotional Value Auction" from 10:00 am to 2:00 pm on Saturday, June 3. Offering an alternative to handing things down through familial structures, this unconventional auction provides an opportunity for people to release things and/or bring new things into their lives based on emotional rather than economic value. A self-described experience broker, Adriane is currently working with organizations and students in Yarmouth to explore cycles of accumulation and release, with particular attention to the power of witnessing to assist in the process of letting go.
How to donate: Anyone interested in releasing an object is invited to email info@yarmouthmehistory.org with the following information: your name, a description of the object, the personal meaning the object holds, why it may be time to let go of it, and a photo (optional). Objects should be dropped off at the Yarmouth History Center on Saturday, May 27, 10:00 am-5:00 pm; Wednesday, May 31, 5:00-7:00 pm; or Friday, June 2, 10:00 am-5:00 pm. The History Center is located at 118 East Elm Street in Yarmouth.
How to bid: Prospective bidders are invited to come to the History Center between 10:00 am and 2:00 pm on Saturday, June 3 to view and read about the objects available for auction and place brief written bids about why they want a particular object. Materials and instructions for placing a bid will be available at the History Center on auction day.
Reception: Releasers and bidders are invited to an informal reception after the auction on Saturday, June 3, between 2:00 and 3:00. Owners can review their bids at this time and decide if someone has moved them to transfer ownership. Owners who cannot attend at this time will receive their bids electronically so they can select from among the bids. Successful bidders will be notified and may collect their items from the History Center.
Questions: Please call or email the History Center with questions (207-846-6259 or info@yarmouthmehistory.org).
Adriane Herman: In addition to documenting waxing and waning wood piles at transfer stations, Adriane Herman designs performative events for people to relinquish physical or non-tangible things before encouraging witnesses. She has exhibited her work widely and undertaken residencies in Nova Scotia; Kansas City; Varanasi, India, and is currently in residence in Yarmouth, where she has taken six classes from Yarmouth High School to release something at the Transfer Station and then make an artwork about the experience. Her work is included in collections such as the Whitney Museum of American Art, the Walker Art Center, and the Ulrich Museum. Herman's independent efforts to normalize art consumption dovetail with curatorial collaborations like Slop Art and projects undertaken with students at Maine College of Art, where she is Associate Professor of the M.F.A. in Studio Art and Foundation. Herman holds a B.A. from Smith College, an M.F.A. from the University of Wisconsin-Madison, and she has lectured at more than 50 institutions. For more information about her work, visit www.adrianeherman.com.