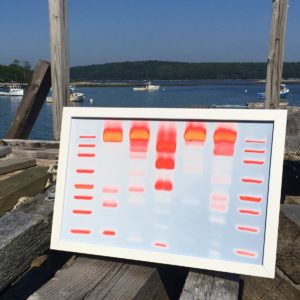 On view now!
Stop by to view the Stonewall Gallery's latest show featuring recent work by Yarmouth artist Dash Masland.
Masland's bright, modern prints showcase the beauty of DNA extracted from sources like blueberries, lobster, and even brewer's yeast. Masland writes: "These DNA images highlight the interconnectedness of all biological creatures, everything from humans to plants, animals, and even single-celled organisms such as yeast. This art is inspired by the beauty of genetic biodiversity and the desire to showcase this unique view of organisms as a tool for teaching and inspiring conservation."
Molecular Prints by Dash Masland will be on view at the Stonewall Gallery through January 6, 2018. The Gallery is located inside the Yarmouth History Center at 118 East Elm Street and is open Tuesday through Saturday from 10-5.