Currently on exhibit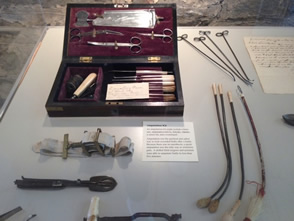 Dr. James Bates served in the War of 1812 on the Niagara frontier and was appointed Hospital Mate of the USA in 1814. Dr. Bates was the acting surgeon of the 25th Regiment at the Battle of Bridgewater and the Battle of Chippawa.The Yarmouth Historical Society has an extensive collection of the Bates Family Papers. Please come see this Special Collection
Dr. Bates medical equipment is on loan from Eliot Huxley.
The Yarmouth Historical Society maintains a research library, archives, and object collection
The primary focus of the collection is the Town of Yarmouth as defined by the boundaries established in 1849. The collections also include materials related to the town of old North Yarmouth as incorporated in 1680, and may include a few materials related to the current towns of Harpswell, Freeport, Cumberland, Pownal, and North Yarmouth. Materials date from the prehistory of the region to the present, and include all aspects of town history, including social, cultural, economic, political, religious, educational, and architectural history.
Researchers are welcome during the hours we are open to the public. If you would like to make an inquiry, please use our form located under Contact Us. In addition, you may call us at (207) 846-6259 or e-mail us at- info@yarmouthmehistory.org
Cemetery Records now available for Yarmouth
Download Cemetery Records (3.6MB pdf file)