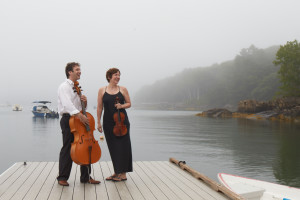 Friday, April 15, 6:30 pm ~ Yarmouth History Center is pleased to host the KISMET Foundation's 2016 Artists-in-Residence for an evening of chamber music. The Abitare Project, featuring Tracey Jasas-Hardel and Ben Noyes, will present a chronological concert connecting history and the music of various time periods.  Yarmouth History Center's executive director, Amy Aldredge, will narrate this walk through time.
ARTISTS' STATEMENT:
We have a great way to think about classical chamber music.  It can happen anywhere, anytime, and for any reason at all.  It doesn't need to be in concert hall.  It should be out and around, teaching and transforming people and places.  Our mission is to widen the classical chamber music audience in Maine, while bringing together seriously amazing talent from all over the place.
Tracey Jasas-Hardel attended Interlochen Arts Academy, received two degrees at the Cleveland Institute of Music and studied for a time in Berlin, Germany as a Fulbright grant recipient.  She has performed at the White House and played with the National Symphony and the Milwaukee Symphony Orchestra.
Benjamin Noyes grew up in Portland, Maine. He was chosen by famed cellist Yo-Yo Ma to participate as soloist and recitalist throughout China.  After earning music degrees from Rice University and Northwestern University he went on to play in the Naples Philharmonic Orchestra and later the Roanoke Symphony.